Welcome to the Expeditions Series Wiki!
The Expeditions Series is a wikipedia focused on the tactical roleplaying video games serie for the PC, with a touch of strategic resource management and a pinch of choose-your-own-adventure. The games are set in historical inspired settings low on fantasy. The first game released is Expeditions: Conquistador in 2013, followed by Expeditions: Viking in April 2017. The franchise received another title with Expeditions: Rome, which was released by THQ Nordic on January 20, 2022. The series is developed by Logic Artists.
Take on the role of a young Legatus, whose father was murdered by an unknown political opponent, forcing you to escape Rome and take refuge in the military campaign to subdue a Greek rebellion. Step by step, you increase your military prowess, strengthen yourself in the forge of combat, and become the Legatus everyone learns to both respect, and to fear. In Expeditions: Rome, you exert the will of Rome through your actions across the world stage, from the bright blue coasts of Greece to the deep forests of Gaul. Decide how people will view you, and Rome. Will you strike with an iron fist, or speak with a silver tongue? Will you embrace the political heritage of the Republic, or carve your own path as you navigate the complex politics of the Roman Senate? Every choice matters as you decide the fate of your legion, your close companions, and of Rome itself.
As the newly appointed chieftain of a modest Viking clan, you'll have a village of your very own. But to carve your name into the runestones of history you'll need great strength, and great wealth to grow your village's prosperity and renown. There is little left to be gained from the Norse lands and so you must set your sights on the the seas to the West, where tales speak of a great island filled with treasure ready for the taking.
Your trusted huscarls will follow you to Valhalla if that be the order of the day, but you'll need more than loyalty to leave a legacy that will be remembered for a thousand years. Now assemble a worthy band of warriors, build a ship, and seek your wealth and glory across the sea. Britannia awaits in Logic Artists' Expeditions: Viking.
Expeditions: Conquistador
Conquer the New world: In the 16th Century, Spanish explorers and soldiers reached the shores of America. The search for gold, fame, and adventure drove these travelers into a treacherous wilderness where they faced hunger, disease, and dangerous predators. In their wake, the Aztec Empires lay in ruins.
[Read more...]

Expeditions: Rome

Party

Combat

World
Expeditions: Viking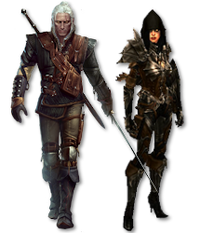 Want to get started on helping add and edit this wiki? Read these links first!